I love aerial photos. My interest in drones came with a desire to get a camera up there. I bought a DJI Phantom 4 Pro a few years ago and liked the images I could make. It's a great drone but the camera is a little limiting. The fixed wide angle lens is prone to distortion, which to the symetrical straight line type of person I am, was a niggle. Photoshop can fix alot but I am used to SLR, DSLR and rangefinder cameras with interchangable lenses. Apart from the lens the Phantom 4 Pro's camera has a 1" 20 megapixal sensor and 4K video. giving very good image and video quality.
The DJI Inspire 2 is a photographer's drone. It has a choice of cameras both of which take lots of different focal lenght lenses. I have the Zenmuse X5s with a numer of lenses fron 15mm (30mm full frame) to 45mm (90mm full frame) semi telephoto. Olympus and Panasonic lenses are compatable giving the X5s user a excellent choice. The Zenmuse has a larger 4/3 sensor which offers professinal quality images and videos.
Both of these drones have similar performance and endurance. Expect to get a maximum flight of 25 minutes with 20 being more realistic. The Inspire has a lifting undercarriage and the camera can be swivelled by the ground operator during flight. This means no props in the image and better camera control.
The modern quadcopter type drone is remarkably easy to control. Thanks to GPS positioning when you let go of the controls the drone just stays in one place. The cameras on my two drone are fully controllable from the ground. Shutter speed, aperture, ISO, expsoure compensation and white balance, still or video can be adjusted in flight. A set of good quality neutral density filters is essential for video work to keep shutter speeds down.
The inspire 2 in it's case with batteries and other essentials is heavy. No long walks for me carrying this kit. The Phantom 4 Pro fits in an easy to carry backpack and is quicker to get in the air. I don't have a DJI Mavic but from reviews the Pro 2 version has an excellent camera . The sensor is a 20 megapixel 1" with a dynamic range and image quality similar to that of the Phantom 4 Pro. It's also far smaller, lighter and quieter.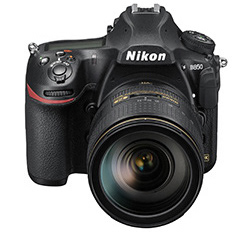 I am a Nikon user and have been since before the birth of digital photography. Nikon have a superb range of of the very best quality lenses. My first SLR was a clunky Russian Zenith 35mm which slipped overboard in Loch Eil  about 1979. I moved up to an Olympus OM1, a great camera which I still use occasionally.   
Like many photographers I've gone mirrorless with the Nikon Z7ii This gives excellent high resolution images with a great dynamic range. I love the camera for portraiture which the new 85mm lens. The built in 
sablisation and video recording qualities are superb.
I have photo gear falling out of my ears including a  range of studio flash and fixed lights. tripods, gimbals, GoPro, camcorder, too much.